Autoren-Archiv:



Ausritt


AUDIO


zu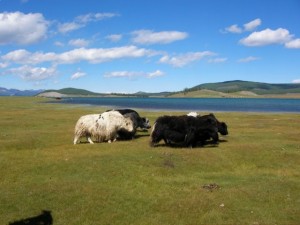 Jean-Jacques Avenel, a bassist with a big big 'B' has gone. He's in the heart of many, he will be sorely missed. I was lucky to see him live a couple of times. And was impressed
deeply, longstanding. He was the bassist of group of Steve Lacy. That's where I saw him first. And later with Benoît Delbecq. He had it all in a special way, rhythm, melody, tone,
earthy power. And, he was a great kora player with a deep knowledge of West African music.








Jean-Jacques Avenel – Waraba (2004)

The encounter of the famous French string bass player Jean-Jacques Avenel with Lansiné Kouyaté, Yakouba Sissokho (kora) and Moriba Koïta (ngoni), encouraged him to found the group "Waraba" (lion). The flutist Michel Édelin also joined the group. Published in 2004, Waraba valorizes the complementary features of strings, balafon and flute music, building a harmonious and peaceful universe
I am just listening to THE SIXTH JUMP, a trio of Benoît Delbecq, Avenel and the Congolesian drummer Emile Biayenda. Very deep vibe and high resonance. Moving music. Ghostly beautiful. Released on Canadian Songlines Label.








VIDEO Studio recording La Muse en Circuit 7 and 8 July 2008

VIDEO JJ Avenel solo Jazzdor 2011
Manchmal kommt man an einen Gebrauchsgegenstand, den man nicht mehr missen möchte. So als ob man einander gefunden hat, unzertrennlich.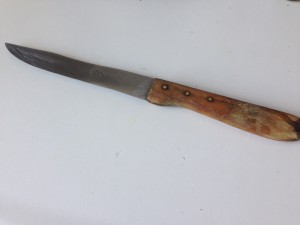 Dieses Messer ist so ein täglicher Gebrauchsgenosse. Seit beinahe 30 Jahren. Unschlagbar, nicht verdrängbar, haltbar, an die Hand und ans Herz gewachsen. Seit beinahe 30 Jahren. Allerdings nicht geeignet für Flisch, Fleisch und Fisch, Brot oder Pudding.
Es fällt schon auseinander, dieses Adressbuch. Manche Adressen dadrin sind schon dreimal überklebt. Übertragung, Migration in ein neues Adressbuch oder ins Digitale?








Bis jetzt nie gelungen. Es liegt immer noch griffbereit auf dem Schreibtisch. Und bestimmte Telefonnummern und Adressen sind in dem zerfledderten Exemplar am schnellsten zu finden. Schneller als digital. Wahrscheinlich auch – unbewusst – vom Grundgefühl her angenehmer. Immer auch ein Griff in Vorgeschichte und den Hauch von Geschichten, die eher von handgeschriebenen Adressendaten aktiviert werden. Es fällt schon auseinander, dieses Adressbuch. Manche Adressen dadrin sind schon dreimal überklebt. Übertragung, Migration in ein neues Adressbuch oder ins Digitale?




Anlässlich Erscheinen des Films Arrows Into Infinity von Dorothy Darr und Jeffery Morse auf DVD

• Spielliste • RADIO, august 30, concertzender


Charles Lloyd + Billy Higgins – Which Way Is East








Wild Orchids Bloom
Tenor saxophone/drums
The Forest
Flute, Maracas, Shaker, Voice
A Wild And Holy Band
Alto saxophone, drums/whistle
Akhi
Alto flute, alto saxophone
Blues Tinge
Guitar, voice
Sally Sunflower Whitecloud
bass flute, maracas/hand drum, shakers
My Lord, my Lord
Tibetan oboe/Syrian one string, voice
Windy Mountain
Tenor saxophone. drums
Perfume of The Desert
Tenor saxophone, drums
Benares
Tibetan oboe, hand drum
Amor
Guitar, voice
Forever Dance
Flute, maracas, Juno's wood box, voice
Atman Alone Abides
Taragato, hand drum
Sea of Tranquility
piano


Photo © Dorothy Darr
Drummer Kresten Osgood is the Jack of all trades on the Danish jazz-scene and yes, he has recorded an album with Paul Bley (even as Jakob Bro). As you can see he is a kind of tornado guy. Here he's doing a short survey on jazz history – by demonstrating. He is a member of the ILK collective in Copenhagen.








Concerning Marie-Laurette Friis: you can learn more about her if you read my review of her recent performance in Copenhagen – just out on All About Jazz . She is an exceptional performer.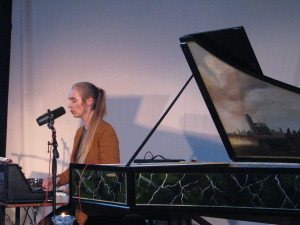 Here together with Kresten Osgood, Jonas Kullhammar, Ole Morten Vågan and Jason Moran performing at Molde Festival last year








And here once again a picture from Osgood's lecture on jazz history – together with Kasper Tranberg, trumpet, and Jonas Westergard, double-bass. His bass drum says: "Music Is The Healing Force Of The Universe."







© FoBo_HenningBolte
In der Nacht zum Sonntag kam der Mond der Erde fast 25.000 Kilometer näher als sonst, wodurch er größer wirkte (12%) und heller strahlte (30%) … ja, es war wirklich erstaunlich …








Zum Mond gibt es natürlich viel, viel, viel. Ja, viel, viel und noch viel mehr. Für mich eins der schönsten


IKUE MORI – one hundred aspects of the moon. Tzadik








Dazu ein RADIO ON DEMAND von mir, mit einem Klick jederzeit zugänglich (Musik nach einminütiger Ankündigung)








Natürlich muss man in der rechten Stimmung für Mondmusik sein …

In dem Programm sind auch zu hören: 'Drunken Forest' von Death Ambient und 'Black Narcissus' von Mephista!


© FoBo_HenningBolte
als Pferd …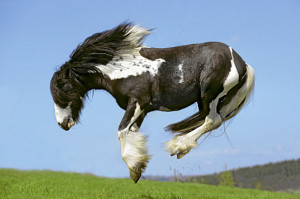 als pferd kann ich nun mal am tag keine drei filme sehen, fünfundzwanzig platten hören, achtzehn bücher lesen und zwei museen besuchen. das geht ja auf keine Kuhhaut. vielleicht muss ich mich für die elefantenprüfung anmelden, weiss der geier! da lachen die hühner? der stall muss erstmal ausgemistet werden oder? jetzt reicht's, es guckt eh kein schwein!