Autoren-Archiv:
Good morning, good Monday morning tune

Thelonious Monk Gallop's Gallop Live at the It Club (1964) AUDIO




A melody is quite simply a melody, it's a well-defined and easily to understand concept

It can be sung or played straight, (a bit) obscuring, distorting, speeding up, slowing down, burying, indicating, alluding, circumventing, transforming …

There are different ways commonly used in jazz and pop music. In jazz it is a question of arranging/recomposing/improvising, in pop music nowadays it is very often a question of stylistic variation, instrumentation and sound design.


Carate Urio Orchestra at Bimhuis, Amsterdam, june 26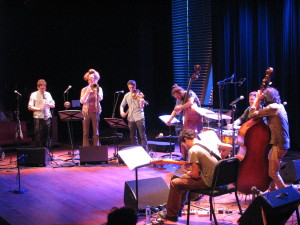 Carate Urio Orchestra is an ensemble founded and led by young reedist Joachim Badenhorst from Antwerp. It is a blend of free improv, large ensemble sound and singer-songwriter songs.








From pieces starting ultimately strange, beautiful melodies emerged in a mystical way. Or beautifully sung melodies gradually mutated in a fascinating way into heavy white noise.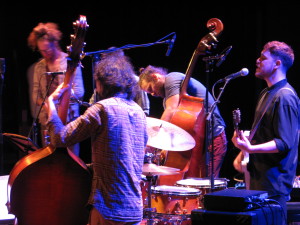 In both cases, the differential qualities were not just used as contexture but as primordial source, Urgrund, of the unfolding or folding up of a melodic line. This requires a high level of highly fine-tuned alignment, the creation of a unified sound entity functioning as an oscillating, shimmering sound organism.








In the performance it is not just a unidirectional, linear process. Instead it is a wavering and richly layered affair along thrilling crescendo's and diminuendos.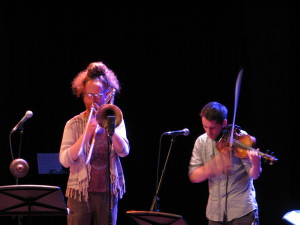 The orchestra has two front singers: drummer/guitarist Sean Carpio from Dublin and guitarist Nico Ruig from Barcelona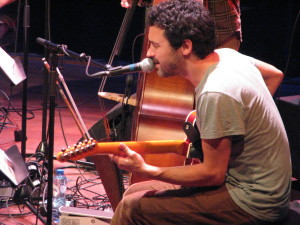 Carate Urio Orchestra is

Joachim Badenhorst (bass) clarinet/tenorsax/vocals, Sam Kulik trombone/guitar/vocals, Frantz Loriot viola/effects, Nico Roig guitar/vocal, Brice Soniano bass/vocals, Pascal Niggenkemper bass/objects, Sean Carpio guitar/vocals/drums








The orchestra will play Ljubljana Jazz Festival next week and will be recorded there by Clean Feed Records.








Also worthwhile to check out the individual musicians!

There are certain similarities with the music of Eve Risser's White Desert Orchestra (read more HERE) and The Berlin concert of Charlotte Greves Lisbeth Quartet + Antonin-Tri Hoang (read more HERE)


©FoBo_HenningBolte
more than words, more than pictures … Marina Abramovic








"Good art is never made in studio, Good art I make in life." HIER lesen …

So gut wie unbekanntes Terrain erwartet mich nächste Woche. Bukarest. Welcher Manafonista weiss was? Kennt was? Ausser George Zamfir. An dem kamen wir alle nicht vorbei. Auch nicht am grossen Sergiu Celibidache.

Suchend sties ich schnell auf eine erstaunliche Stimme:


Maria Raducanu








Eine erstaunliche, wirklich eindrucksvolle Stimme. Urkraft mit ganzer Seele. Eine Stimme, die jede Umgebung erfüllt, packt und mit allem unter die Haut geht.

VIDEO Cristina

Mit Krister Jonsson, dem schwedischen Jazzgitarristen, und dem Berliner Perkussionisten Michael Griener, der Spezialist für Vokalistinnen. Und es gibt Aufnahmen mit Chris Dahlgren und Jan Roder – noch einiges zu hören und zu entdecken. Raducanu ist ziemlich produktiv.

Und siehe da, ja, ein Tzadik-Album mit Marc Ribot. Ribot findet sie und sie zu ihm.

AUDIO Ziori (Dawning Dawn)

AUDIO Luna

Mehr Bandbreite. Hier mit Maxim Belciug

VIDEO Pe langa plopii fara sot


Fortsetzung folgt
Es geht hier ja um den alten Heraklit-Spruch vom πάντα ῥεῖ, Panta Rhei.
Aber davon erstmal abgesehen. Es wäre schlimm um uns bestellt, wenn wir Gleiches immer gleich hören würden. Wir wären dann ja äusserst primitive Wahrnehmungs- und Verarbeitungsmaschinen. Auch ein einmal gespieltes Stück identisch wiederholen ist ein Ding der Unmöglichkeit. Auf der anderen Seite brauchen wir ja so etwas wie erkennbare Musterhaftigkeit, die uns zur Feststellung von "Gleichem" führt. Auch dann wenn es sich in vielem von einer anderen Instanz dieses Gleichen unterscheidet. Die mündliche Sprache ist ein Paradebeispiel dafür.
Klar ist jede Fassung anders. Auch dann, wenn sie alle direkt aufeinanderfolgend gespielt werden. Genau davon macht das Album "Dances And Canons" von Kate Moore in der Ausführung von Saskia Lankhoorn Gebrauch. Aber eben nicht hintereinander, sondern simultan geschichtet.
Hinzu kommen dann noch die Verschiebungen beim Zuhörer bei der Aufeinanderfolge von Sorrow-Ausführungen – sowieso schon ein Stück, das sich in den Schwanz beisst. Die Klänge laden sich schon deswegen immer wieder anders auf, weil wir ja sonst das Gefühl kriegen würden, einbetoniert zu sein.
Also einerseits streben wir nach Konstanz und andererseits schweifen wir ab. Es kann wunderbar wogend-fliessend hin- und hergehen oder auch konflikthaft, verknotend laufen.
Und bei Klang, Musik ist das Paradoxon eher noch verschärft: Klänge lassen sich nicht zurückholen, klingen aber (kosmisch) endlos weiter. Sie sind weg und nicht weg.
Der Schlüssel? Der Schlüssel ist das lebendige Ich.
Norwegian poet Nils Christian Moe-Repstad in a duo performance at 46th Poetry International festival in Rotterdam with pianist Fulco Ottervanger of famous trio De Beren Gieren (the bears are shrieking) reading "Poisoning 16″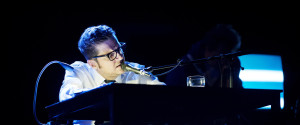 V I D E O








The duo was a spontaneous decision. Moe-Repstad appeared for his soundcheck at the moment that pianist Fulco Ottervanger from Ghent was finishing his soundcheck. Ottervanger was supposed to open Moe-Repstad's recitation as a separate performance. When Moe-Repstad heard him playing during the soundcheck, he proposed to do the opening totally improvised together. It came out like this. And, it became the talk of the festival then.

More about De Beren Gieren (the bears are shrieking) from Ghent HERE

The concert of the live-review has now been released on CLEAN FEED, entitled The Detour Fish (Live In Ljubljana)


RADIO, june 28, later ON DEMAND

BIJdeTIJDS: "wordsasmusic" – Nils Christian Moe-Repstad en Scardanelli


PLAYLIST

Christian Moe-Repstad – Theory of the Singular. Jazzland Rec. (w/Nils Petter Molvær, Eivind Aarset, Jan Bang, Erik Honoré)

1 De biologische undergangene
2 År deponert I koder
3 Døden I alveolene
4 Enfoldige kongers hender
5 Det fortelles om traner
6 Hjertets vener faller sammen som elvemunninger
7 Avblomstring av kjønnet


Harald Bergman – Scardanelli. ECM New Series

8 Ich heisse Scardanelli
9 Der Frühling (Wenn neu das Licht …)
10 Die Aussicht (Der offene Tag …)


Heinz Holliger – Scardanelli-Zyklus. ECM New Series

11 Glocken-Alphabet
12 Der ferne Klang
13 (t)air(e)




Foto Fulco Ottervangern ©FoBo_