Autoren-Archiv:

after the festival the RE – VIEWviewview …








after the festival the RE – VIEWviewview …








Photos ©FoBo

THE NECKS haben heute im Kölner Stadtgarten gespielt. Es trug nicht hin bis Amsterdam. Aber hier waren sie ja gerade, und es klingt noch nach. Jetzt noch morgen London, im Village Underground. Und dann müssen wir erst mal wieder warten … Und vielleicht wird sie ja Wirklichkeit, die Tour entlang einer Reihe besonderer Klanglokalitäten und –räume.


Hier noch ein lohnender Mitschnitt der BBC, einschliesslich einer schönen Session mit Publikumsfragen:


H I E R


The Necks at renowned Café Oto in London in November 2013 during London Jazz Festival LIVE broadcasting. Preceding: questions from the audience answered by the three musicians.


The question-answers-part starts after a 10 minutes introduction (with music by Medeski, Martin and Wood from Ronnie Scotts). You can easily move forward in the bar to get to the start of the conversation with THE NECKS.










Australische Musik: nächste Woche dann (Freitag, 24. April, 20:30) spielt das AUSTRALIAN ART ORCHESTRA in Bremen – u.a. mit dem deutschstämmigen Immigranten Niko Schäuble an den Drums.


Peter Knight (electronics, tpt), Paul Grabowsky (p, Musical Director), David Wilfred (wagilak songman, didgeridoo), Daniel Wilfred (wagilak songman, voc, clap sticks), Tony Hicks (reeds), Niko Schauble (dr)


Photo ©FoBo_HenningBolte

I am no frequent visitor of museums but I very clearly remember ambience and impressive details of most I visited. Actually I visited Louisiana 2 weeks ago and vividly remember the Giacometti works there (it was a shirt, quick visit).

Today I visited the Late Rembrandt at the Rijksmuseum here in Amsterdam. The place of the exhibition is about three kilometers from the place where mister van Rijn (1606-1669) lived and worked.

It was pretty crowded – every two hours a procession of a big group along the paintings and sketches. Proceeding in opposite direction, from back to front, was practical solution to this problem.

A couple of the sketches and even some paintings looked very modern (first half of the last century). Astonishing, very astonishing!

Maybe that Rembrandt had a quite deep influence on many of the early 20th century painters, maybe he was so much ahead of his time, or both! Most clearly it is manifested in his sketches.

Und dann ist da der Rembrandtsche Blick – im doppelten Sinn. Der Blick des Malers, der die Welt sehr plastisch wahrgenommen haben muss und dann der Blick, die Gestik seiner gemalten Figuren. Rembrandt war ein Meister der Schaffung von Blicken aus dem Kontext und in den Kontext hinein. Körperbewegung im Zusammenspiel mit Lichtfall erschliessen den individuellen Gemütszustand, Momente der Gewahrwordung und der Befindlichkeit. Das ist alles so stark, dass es in viele Malerei nach ihm bis hin zu heutiger Photographie hineinwirkt.

Einige haben einen besonders starken Eindruck auf mich gemacht an diesem Nachmittag

wie diese Zeichnung …










Homer Verse vortragend (1663)

oder diese …










Schlafende junge Frau (1654)

Und einige mehr, ja.

Etwa …










Elsje Christiæns am Galgen hängend (1664)

Die Tatwaffe hängt mit am Galgen (rechts, vom Betrachter aus gesehen)


Amsterdam, Bimhuis, yesterday night

again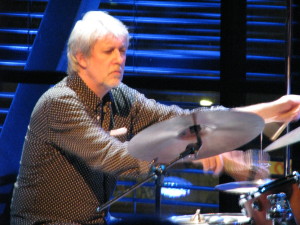 evocation of a musical compaction by (great) The Necks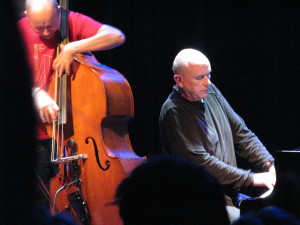 Auch nach fast 30 Jahren (nächstes Jahr) sind Konzerte von The Necks ein (unvergessliches), immer wieder quasi jungfräuliches Ereignis der besonderen Art


In Germany werden The Necks allerdings recht wenig gebucht … . Warum wohl?


Am kommenden Mittwoch, 15. April, aber spielt die Gruppe im Kölner STADTGARTEN


©FoBo_HenningBolte

Da sitzt ein Typ jahrzehntelang am Rande irgendeines Nestes auf dem Lande in England. Am Rande von grünen Weiden. Büsche, Feld und Wald. Enturbanisiert oder zumindest urbandistanziert. Singt und spielt da vor sich hin, und die ganze Welt hört gespannt zu. Ab und zu muss er von Leuten wie Carla Bley (inzwischen auch ländlich geworden) oder Michael Mantler (dies Jahr zu sehen in Moers) angespornt werden, und der alte Kommunist singt sich aus der Welt in die Welt. Es gibt viele Weisen des Älterwerdens …

Soup Songs, soup sings: The music of Robert Wyatt (on BBC) HIER. Nicht taufrisch, aber nichtsdesto …

Und dann einige sehr schön treffende Beobachtungen über den Musiker Thomas Morgan und sein Bassspiel HIER

Richard Williams hat übrigens ein sehr gutes, aufschlussreiches Buch über einen der einflussreichsten musikalischen Impulse der 60er Jahre geschrieben. Darüber ein ander Mal!
 




Strings with wings, in cool waters … What to expect when … ???
When you take a variety of string instruments like violin, hardanger fiddle, viola d'amore, contrabass and augment it with saxophone, harmonium, vibraphone/percussion – what you think you will hear, what you think it will sound, what you think you get?








When string-player Nils Økland brings together Mats Eilertsen, Rolf-Erik Nystrøm, Sigbjørn Apeland and Håkon Stene, what do you expect will happen, what do you expect it will sound?
What you get, is a highly confluent, post electronic sound produced purely acoustical based on strong folk music themes. It is less a flickering and pumping broad/big flow but more an undulatory ebb and flow thing.
The acoustic feeling and its dynamics, the purely acoustical stretching creates a sound that is just stupefying when brought by the delicate playing of these five master musicians – a strong crew working for the sake of Økland's music and musical ideas and he himself a daring musician who succeeded in seducing the musicians to play this daring and unique beautiful music. Extraordinary music, music without parallel!
Extended techniques are fully in service of the pulsating and elegantly undulating sound. With its sophisticated fine tuning this music surmounts many sorts of emanating electronic music. A questions of when doing what with which power and intensity.








This new group of six musicians, Nils Økland Ensemble, will release its first album soon. The musicians all involved deeply here know each other very well from various collaborations.








to be continued


Foto 1 and 2 ©FoBo