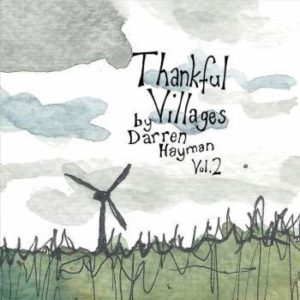 Never one to shy away from an esoteric challenge, prolific British singer/songwriter Darren Hayman has written albums championing open-air swimming pools of England, favorite trains, arcane socialist chants, and, on this project, thankful villages. Coined after the First World War, a thankful village was one where every soldier returned home safely. Hayman delivered the first volume of this planned three-record set in 2016, chronicling in sound and song 18 of the 53 villages that bear this designation.
On Thankful Villages, Vol. 2, he tackles 17 more of these pastoral little towns. Traversing the U.K. countryside with various instruments and recorders, his endearing patchwork of documentation plays almost like a broadcast, interspersed as it is with field recordings, interviews, and various narratives on rural life. A local resident introduces himself as "Dennis…but they all call me Bill" on the wistful "Cromwell," while Hayman himself narrates the spoken word tale of "Woolley," describing in detail the tiny village's geography as well as its difficulty to locate.
There are more straightforward songs here as well, often with lyrics focusing on some facet of the chosen village's history, like the Belgian wartime refugee in "Norton Le Clay" or its appearance on the marvelous guitar pop tune "Woodend." Other tracks combine instrumental backdrops of bright synths, percussion, guitar, and ukuleles while letting the natural and manmade sounds of the location tell its own tale.
As much as can be managed, Hayman writes and captures the songs on the spot, often setting up his small portable studio in local churches or outside in fields or parks, letting the aural textures bleed into the vocal and instrument takes before adding overdubs and mixing the songs at home. Initially known as the leader of beloved indie pop outfit Hefner, Hayman's later solo work has relied more and more on this type of historically oriented conceptualism, with the Thankful Villages project being among the most unique offerings of his career. Like the first volume, this set is a warmly captured and richly envisioned endeavor that is unlike anything else in pop or folk music.
– Timothy Monger, Allmusic